Morgan - 11 / Apr / 2020
Wakesurfing 101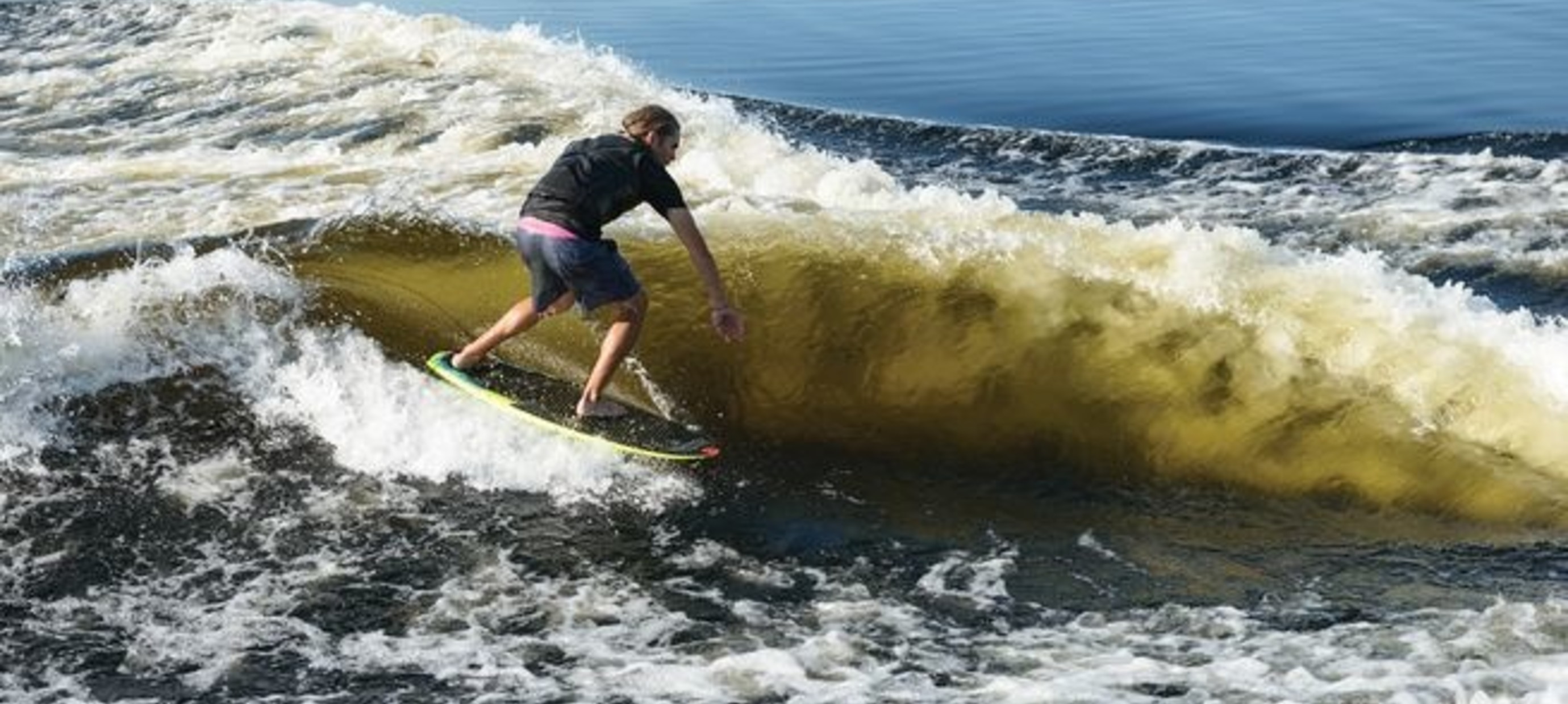 Wakesurfing pro Brian Grubb teaches you the basics of wakesurfing.
Whether your movie of choice was Endless Summer or Chasing Mavericks, your idol Duke Kahanamoku or Kelly Slater, chances are at one time in your life or another you've thought surfing was pretty … darn … cool.
And let's face it: You were right. Riding a board propelled solely by the energy of a wave is one of the most fun things you can do with your board shorts on. Surfing's got sun, speed, style and soul, all wrapped up into one glorious session in the water. But sadly, it's also got one really big drawback — geography. Surfing isn't all that cool if you don't have access to an ocean.
At least it wasn't until some wakeboarders started playing around with surfboards in their spare time. Turns out those same pumped-up wakes that are so good for boosting airs are also great for pushing riders along sans tow rope. They're so good, in fact, that many boat manufacturers have started dialing them in even further, producing wake-shaping devices that do a pretty good job of mimicking Mother Ocean. The result is arguably the "it" water sport of the moment — wakesurfing — and it's one that nearly anyone can do, virtually anywhere you have water.
We brought in wakesurfing pro Brian Grubb to prove that wakesurfing is within reach of Mom, Dad, teen and 'tween. Now it's your turn to catch the endless wave.
Gather the Essentials
Before you dream of going on surfari, you need to gather the necessary gear, including your wake generator, also known as the boat. The ideal wakesurfing sweet spot is only about 10 feet off the stern. Inboards or V-drives, like the typical ski or wakeboard boat, work best.
Once your wake is dialed in, all you need is a board and tow rope. Forgo the conventional ski rope in favor of a surf-specific alternative. "Once you get up and going you're going to surf without the rope," explains Grubb, "so you need a smaller handle that's easy to throw back and forth in and out of the boat. It also has a thicker-diameter line so you can just grab onto it anywhere you need to." If you have a tower, anchor the rope up high for the best pull. To tailor the length, toss the handle off the back of the boat and adjust so that it falls just in front of where the lip begins to curl.
Getting Started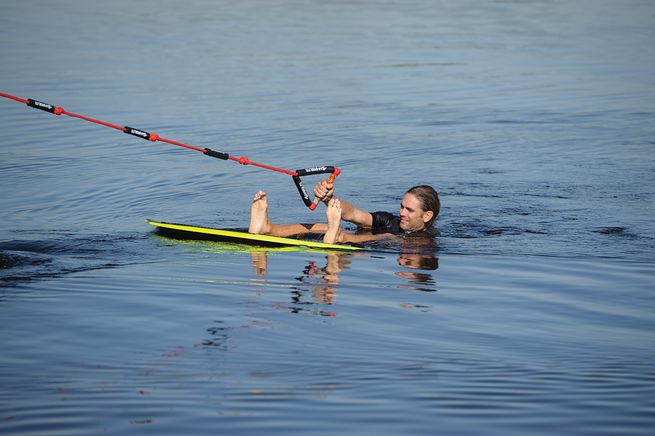 Other than the lack of bindings, getting up is similar to doing so on a wakeboard. Use a life jacket, not only for safety but also for the added buoyancy it will provide. Position the board flat on the water, perpendicular to the boat with the nose on the same side as your front foot, place your heels atop the board nearest to the board's closest edge — or "rail" — and then simply relax and float, tow rope in hand and arms straight and outside your knees. (Don't know which foot to put forward? Think about being pushed from behind, and note which foot you'd put out to catch yourself.) When you're ready, signal the driver to accelerate.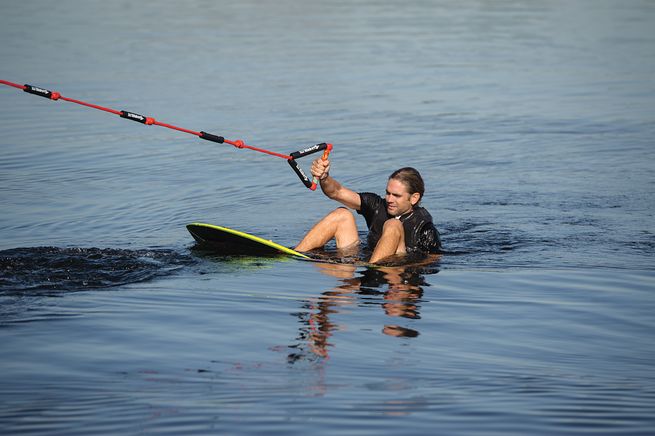 A slow forward idle will create tension on the tow line, flipping the board against your feet as you simultaneously push down on your heels. Then, a steady, controlled acceleration is all you'll need to pop up on top of the water.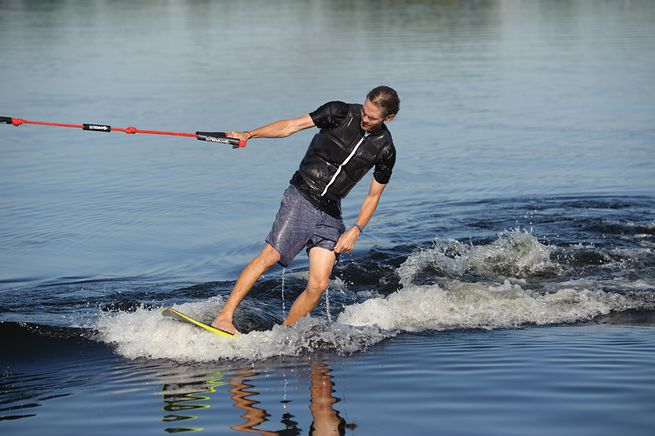 "Let your butt slide all the way up into your heels so that you're in a tight little ball," Grubb suggests. "Always keep your arms straight, and let the boat do all the work. You're not trying to pull yourself up; you're just holding that position to let the boat pull you up."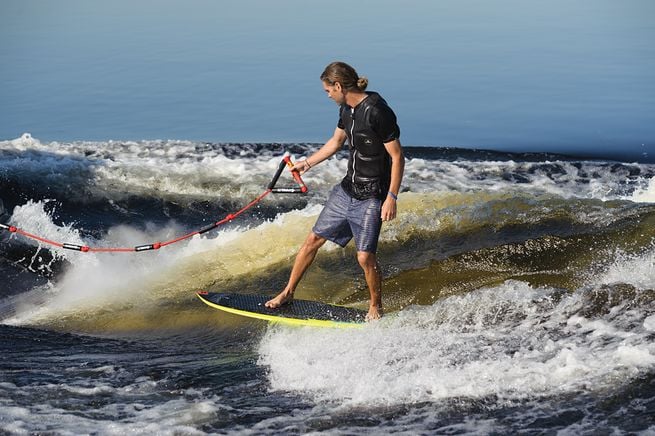 Once the board planes atop the water, stand up, keeping your knees bent to absorb shock as well as lower your center of gravity, and bring your front hip to the tow handle. This motion, as well as the board's fins, will naturally align you parallel to the boat and facing the wake.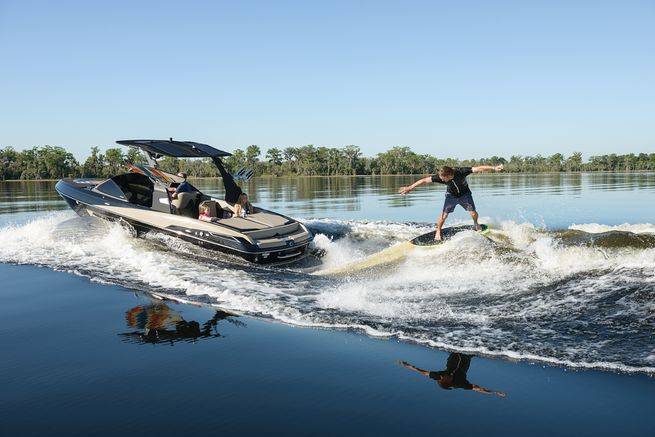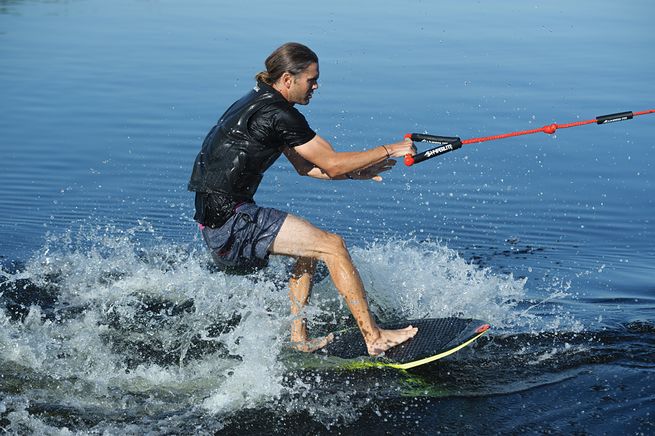 Using the Wake
Once you're up, take some time to get comfortable atop the board. Keep your knees bent, and hold on to the tow rope with just your front hand to open your shoulders to the wave. Your back hand can be used for balance. If your feet aren't where you want them, use your toes to wriggle back and forth. Since most riders will initially face the wake, keep your knees over your toes to create pressure on the toe side rail, cheating your front foot slightly toward the wake. Ideally, about 60 percent of your weight should be concentrated over your forward foot and 40 percent over the rear.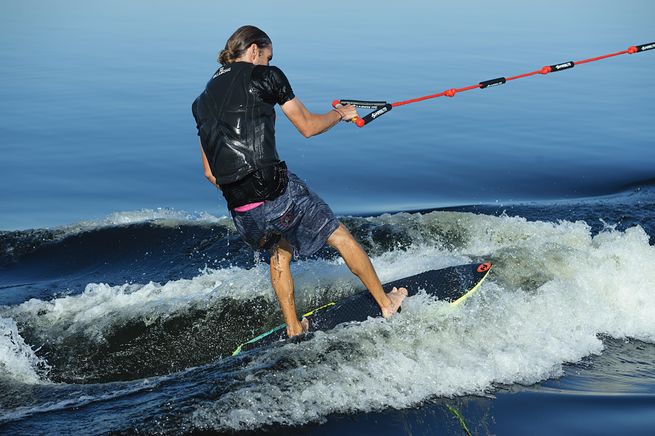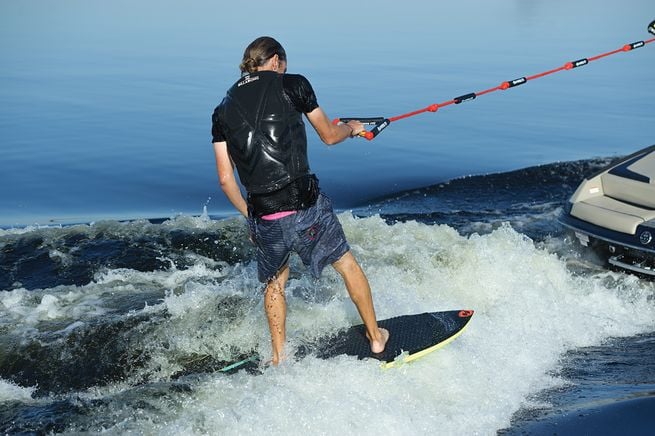 Once stable, start experimenting with moving toward and away from the boat. "Think of your front foot as the gas pedal," Grubb says. "When you put pressure on it you move forward, and when you move the weight toward your back foot, that's your brake." Shifting pressure between your toes and heels will help you move side to side, engaging the board's rails to move you toward and away from the wake. You'll know you've found the "sweet spot," or pocket, when the tow rope goes slack and you're just being pushed forward by the wake's energy. Don't be in a rush to get rid of the handle. Instead, practice moving forward and back, as well as toward and away from the wake, relying completely on the wake's push rather than the boat's pull.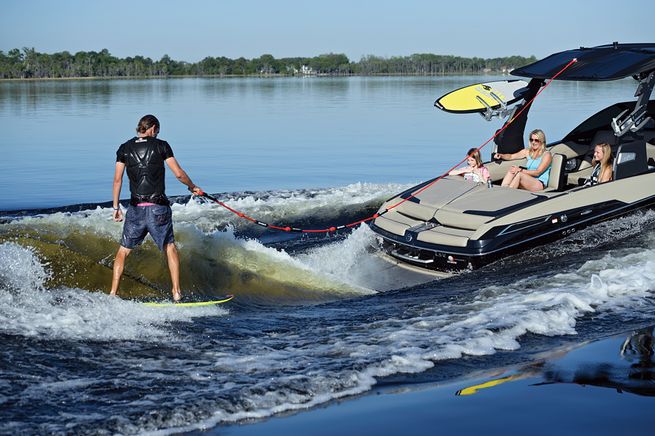 "Anticipate yourself moving forward and back on the wake," Grubb continues, "and try to stay right in that pocket, that sweet spot where you're getting just a nice push toward the boat and you're not having to do a lot of work with the board." The handle will be there to catch you should you drift out of position.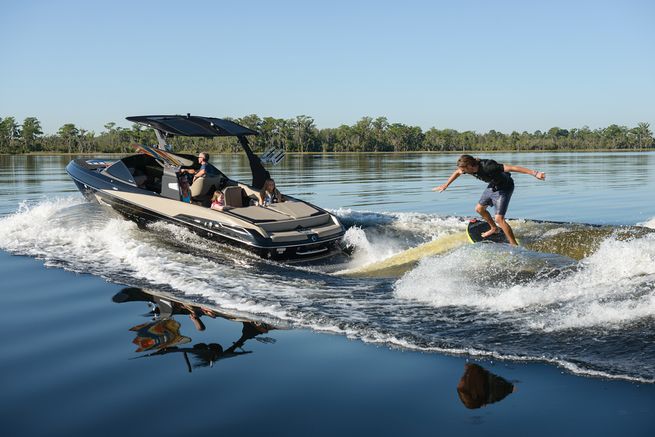 Let's Go Surfing Now
Once you're confidently controlling the board with a slack tow rope, it's time to toss the handle and let the real fun begin. Starting at the end of the tow rope, slowly transfer pressure to your front foot to pick up speed. As the rope goes slack, toss the handle over the rooster tail. It will stay out of the way until someone in the boat pulls it in.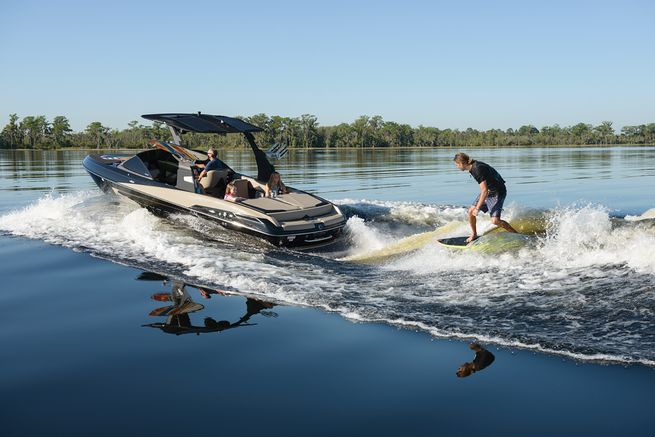 Without the rope, the pressure to stay in position increases, but so does the fun. Get to know the 10- to 12-foot section of the wake where you can move back and forth without losing that forward push. "You don't want to be too close to the swim platform," Grubb says, "but you don't want to be too far back. You can get stuck behind the curl of the wave. You want to stay right in that sweet spot where you can work the wave."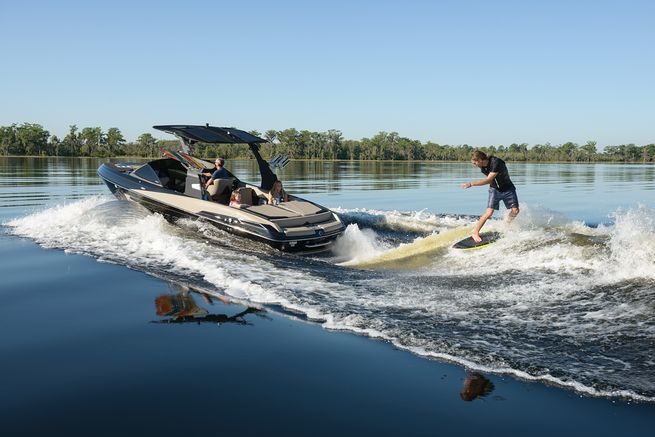 Once you get comfortable with that, you can start to carve up and down the face in the classic surf motion. "Go to the top of the wave, and then use that transition to get speed and create some momentum toward the boat," Grubb instructs. "You can kind of get in a nice little rhythm as you move up and down the wave." Surfers call this pumping. The same motion can later be used to generate the speed and power you'll need to attempt tricks like aerials or skim-style spins.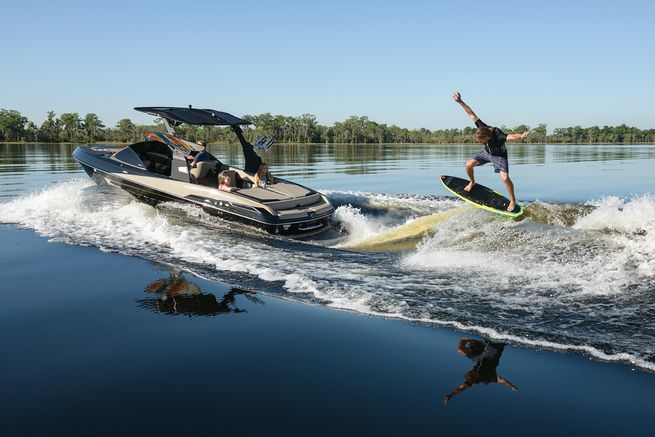 "Wakesurfing is really fun for the whole family," sums up Grubb. "You can teach little kids how to ride; even your grandparents could probably get out there and do it. It's just a really family-friendly, fun thing to do."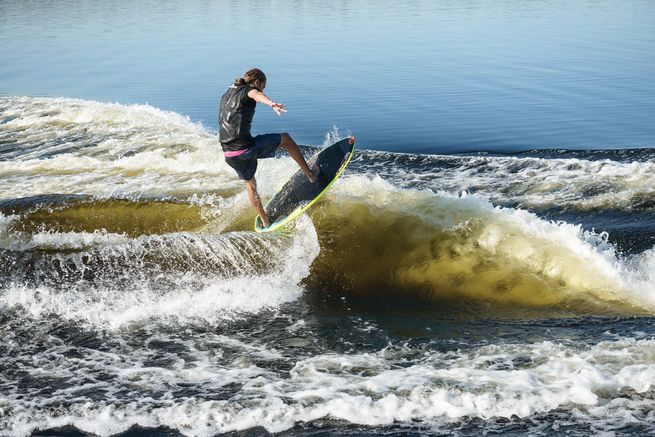 Tip: Try to start at a slight angle, outside the wake you plan to surf on. That way you won't have to immediately battle the whitewater directly behind the boat or drop off the steep wake face to get into position.
Running the Boat
Driving for wakesurfing is a lot like driving for any other water sport. The keys are speed control and maintaining a straight, predictable course. For the former, rely on electronic speed control if your boat offers it. Most wakesurfers will probably ride between 10 and 11 mph, and speed control will prove steadier than a human hand on the throttle. As to the course, keep the bow aimed at a landmark. For safety's sake, the following two rules are imperative.
*Always be aware of the sizable wakes you're generating; steer clear of the shoreline and watch for other boaters.
*Likewise, use caution when your rider falls to avoid swamping the bow while turning back. Better to shift into neutral, let the wakes spread and then slowly make a tight turn back toward the rider.
Choosing a Board: Surf vs. Skim
Wakesurf boards come in many shapes and sizes. Longer, wider boards are generally better for bigger riders, while smaller boards are often more maneuverable for riders with advanced skills. One of the biggest differences in boards, however, is their surf vs. skim personality.
Fin configuration often makes the biggest difference. A more traditional surf-style ride is produced by deeper fins set up in the classic three-fin "thruster" pattern. A surf-style board will carve aggressively, as well as feel more locked in for beginners. Those who desire a looser skimboard feel will want to go with a single, smaller fin. This will allow the board to release more easily, making surface spins and advanced, skate-style tricks ­possible. Check out our post on How to Choose a Wakesurf Board. If you still have questions, leave a comment on this post!
Original article can be found at https://www.boatingmag.com