Morgan - 20 / Apr / 2020
How to Choose a Wakesurf Board
What is the best wakesurf board for me? A question we hear everyday. Let's break down the shapes to help you decide what surfboard is right for you.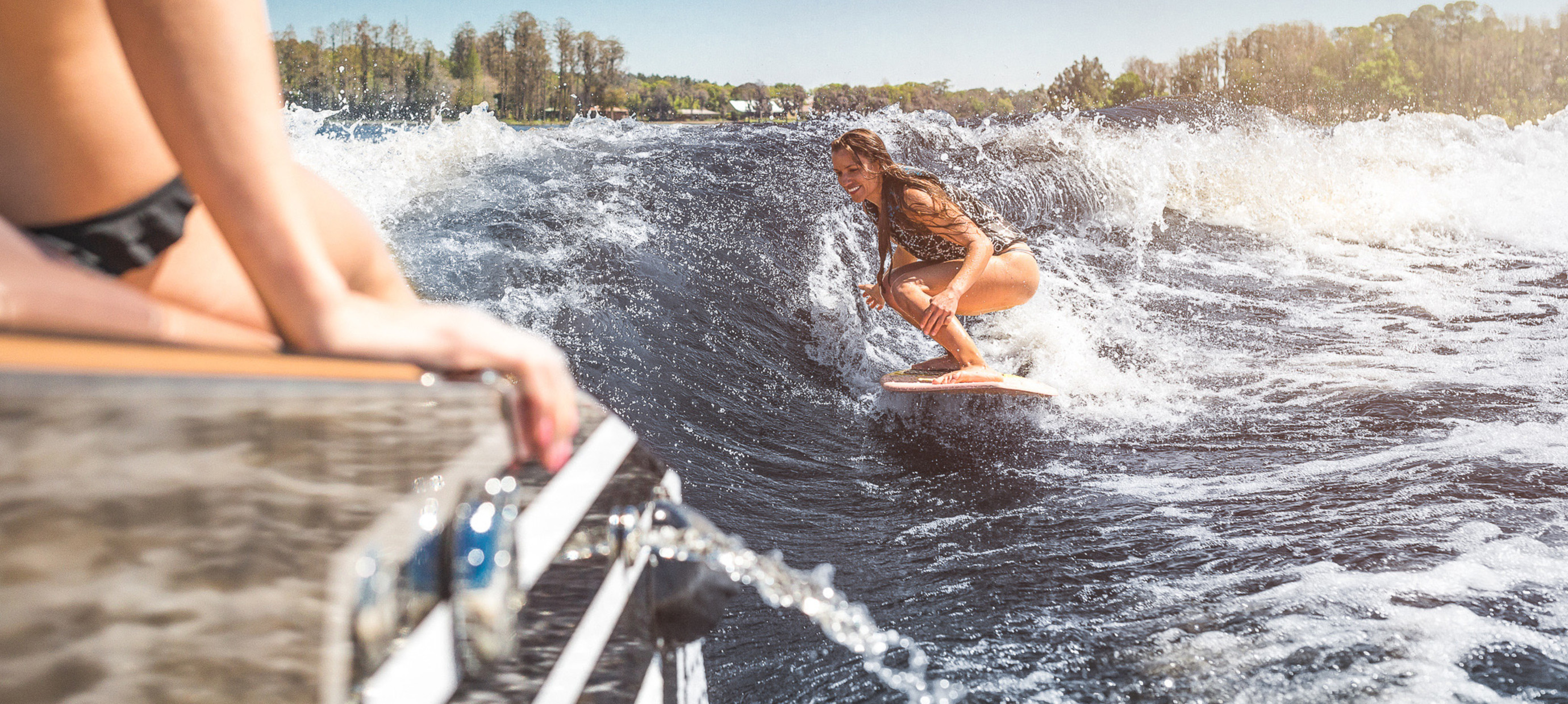 What is the best wakesurf board for me? A question we hear everyday. There a few different considerations to make when purchasing a new wakesurf board. Which wakesurf board is right for you comes down to a few questions: Who will be using the board? What type of wave are you surfing? What type of surfing do you want to do?
Comparing Skim and Surf style wakesurf boards generally looks at the last question. What type of surfing do you want to do? Are you looking for a quick, agile board? Are you looking to learn your first 360? Maybe you're just looking to cruise the wave with minimal effort. Let's break down the shapes to help you decide what surfboard is right for you.
Skim Style Shapes
Skim style wakesurf boards typically have thinner profiles, symmetrical shapes from tip to tail and very little, or even no channeling along the base. The thin profile means a skim style board has less overall volume, thus allowing it to sit lower to the water. This deeper position gives the board more edge control and allows for quicker reactions to your movements. The symmetrical shape (pointed nose/tail) allows the board to be ridden forward or backward, opening up the possibility for skateboard-esque maneuvers to be performed (i.e. pop shov it's, big spins, etc.). Finally the minimal amount of channeling along the base allows the board to "break free" making spin maneuvers easier. Additionally, skim style wakesurf boards often have a very flat rocker line and low profile fin arrangements. All of this together creates a board that reacts quick under foot, spins easily, and can be ridden in either direction.

Surf Style Shapes
As the name suggests, surf style wakesurf boards are designed and shaped like the surf boards you'd see in the ocean. Counter to skim shapes, surf style wakesurf boards typically have thicker profiles, wide or shaped tails, and larger fins. The thicker profile, or higher volume, of a surf style wakesurf board creates more buoyancy allowing the board to float higher on the water. This increase in buoyancy naturally gives the board more glide. The increase in buoyancy also keeps the edges of the board higher. To counteract the minimal edge control, larger fins are placed on a surf style wakesurf board to maintain edge to edge performance. Surfers who ride a surf style wakesurfer tend to describe the board movement as more fluid and less immediate. Additionally, surf style boards often have large flat tails (squashtail or squaretail) or "V" shaped tails (fishtail or swallowtail). The extra surface area on the tail of the board generates more forward drive and minimizes the effort needed to keep up with the wake.

What does it all mean?
So let's throw the jargon out the window. If you're looking for a responsive board, capable of easy 360's and other rotation tricks, you're going to want a skimboard. If you're looking for an easy cruising board, getting far behind the wave and making long drawn out turns, the shape and construction of a surf style board is what you're after.
What are the negatives?
While a skim style board is perfect for learning those 360's, there are a few downsides to consider. The smaller volume and surface means less push. You might find yourself working a little harder to "pump" the board to keep yourself in the pocket. It will be much more difficult to get farther away from the boat on a skimboard for beginner and novice level riders. Also, If your wave is on the smaller side or you're over 225 lbs, you may want to consider a very large skim board or look towards a surf style board as an alternative option.
Surf style boards have their cons as well. Because of their larger fins, they are typically more difficult to initiate surf spins with. And while push is imperative in a surfboard, smaller riders may struggle to stay away from the back of the boat due to the increased amount of push a surf style board offers.
Is there a middle ground?
Why not get the best of both worlds? If you're somewhere in-between, you may want to consider a hybrid style surfboard. A hybrid style surfboard will typically have the thickness of the surf-style board, but the tip/tail shape of a surfboard. What this means for you is a board that spins better than a surf style board and has more push than a skim style board.

Phase Five Wakesurf Size Chart
Model
Size
Ht. Range
Suggested Wt. Limit (lbs)
Diamond Turbo
48
4'8"-5'7"
135
51
5'1"- 5'11"
170
54
5'4"- 6'2"
195
57
5'8"- 6'5"
220
 
 
Hammerhead
50
5'0"- 5'11"
175
53
5'3"- 6'1"
200
55
5'7"- 6'4"
225
 
 
Diamond CL 
54
5'4"- 6'2"
200
57
5'7"- 6'4"
225
 
 
Avenger
48
4'9"- 5'7"
140
51
5'2"- 5'10"
160
Ronix Wakesurf Size Chart
(Original article from wakehouse.com)