17 / Dec / 2018
Snowboard Completes for Christmas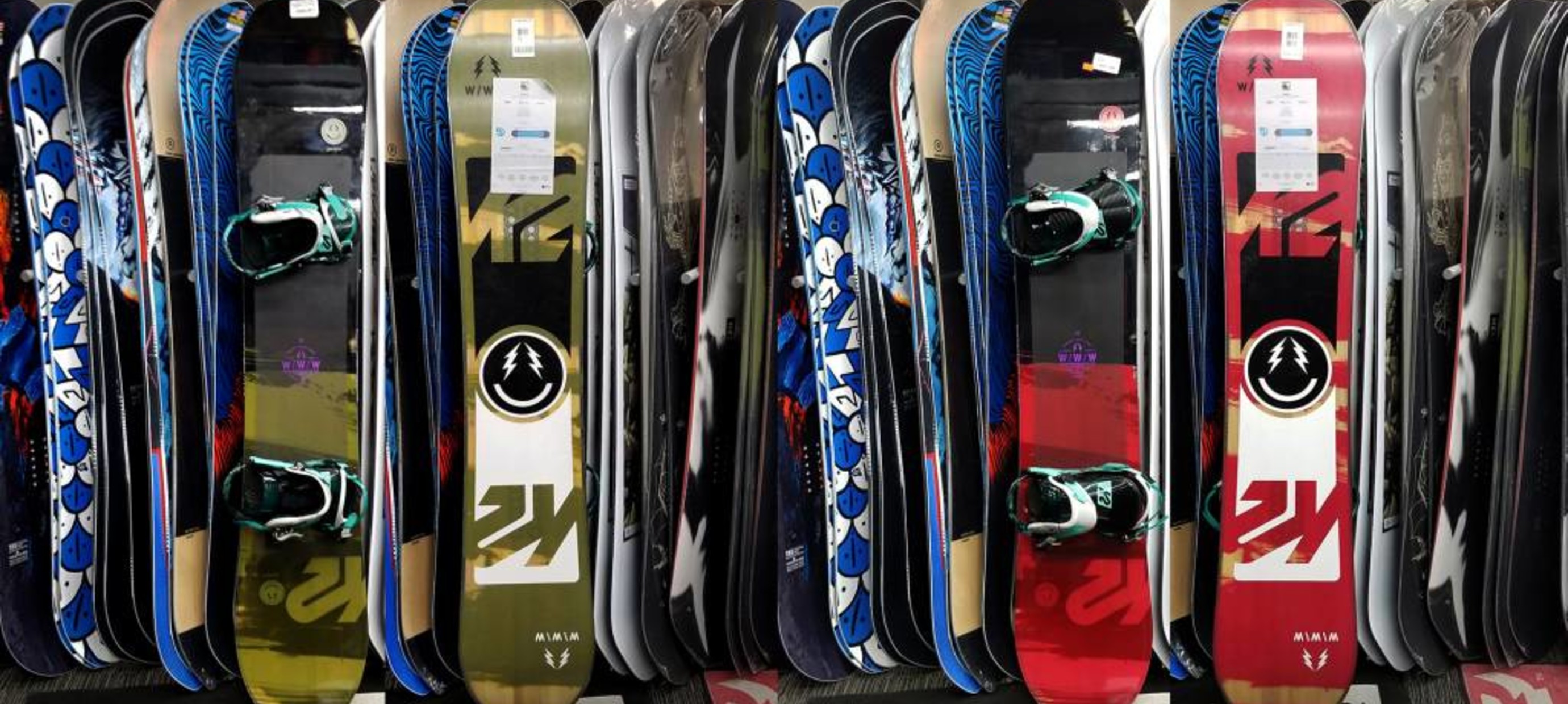 Shopping for the snowboarder in your life just got easier... Here are some past season snowboard setups that are ready to go just in time for Christmas.
K2 RAYGUN SNOWBOARD 2017
The K2 Raygun is geared towards all-mountain, do it all kind of riders. Whether you're slashing waist deep pow turns, cruising mile long groomers, or even catching some air in the park, this board can handle it all. Built for the economical snowboarder looking to ride everything, but not looking to spend their savings account on a quiver of boards, this board will be able to handle anything put in its way. The flat directional twin shape of this board provides a ride that will keep you on your toes and coming back for more. The extruded base ensures you won't spend too much of your precious mountain time in the tune shop. If you're looking for a board that will crush the whole mountain, then look no further, the K2 Raygun is the deck for you.
GNU ASYM Credit Snowboard 2017
If you are one of those people who doesn't want to believe the Asym hype, let me reassure you that the hype is real. The construction of the GNU Carbon Credit Asym is a perfect example of how awesome an Asymetrical board can be. Toe side is built with a stronger Poplar wood, the spine of the board is crafted from Aspen, and the heelside is a softer Polownia.This shape and design is anatomically correct for the way our bodies work when shredding. Since our knee's bend toward our toes, we can naturally apply alot more power through a frontside carve compared to backside. Blending the different stiffnesses with a deeper sidecut heelside makes everything come more naturally. BTX construction takes the hard part of snowboarding out of the equation by giving you lots of rocker for jibbing up a storm. Softer flex makes the mountain your playground where you can butter top to bottom with sucking the life out of your legs. After your first lap you will be on Asym train because it's technology you feel instantly and will ultimately make a better rider. The GNU Carbon Credit Asym is priced right without lacking in quality or performance.
The GNU Carbon Credit Asym is an awesome board for new riders who are still getting the fundamentals down and an even better board for riders who love to jIb, bonk, and butter everything they cross.
Rome Gang Plank Snowboard 2018
Remember when the internet was littered with photographs of people stiffening up their entire body and emulating a plank of wood, ie. planking? Stemming from the same goal of perfecting a flat line, the Rome Gang Plank Snowboard is prepared to impress you and your posse with the versatility of its flat camber. Whether you're waist deep in powder, swinging through the trees, or ollying it up in the park, the FreePop Rocker Camber will have you motivated to do it all. The Rome Gang Plank Snowboard is prepared to be the highlight of your life, and not just a newfangled internet trend.
Burton Custom Flying V Snowboard 2017
When other companies emulate the versatile ease of the Burton Custom Flying V Snowboard, you know you're onto something. Backed by a cult following, the Custom Flying V Snowboard replaces the need for a conditions-specific quiver, tackling everything the mountain has to offer with impressive ability. Directional in shape, symmetrical in flex, and built upon a lightweight Super Fly II™ 700G core that's enhanced by 45° Carbon Highlights, this do-it-all deck will have you wondering why you ever rode anything else. Saddle 'er up with a pair binders and take flight this season on the Burton Custom Flying V Snowboard.
GNU Carbon Credit BTX Snowboard 2017
Not only is the GNU Carbon Credit BTX Snowboard super easy to ride, but it offers all-mountain capabilities and Magne-Traction® edgehold confidence at an unreal price. A BTX rocker profile makes it super easy to turn but still maintains the poppy, jib-friendly feel of a cambered board. If you're looking to have a progression-heavy season but also have a good time doing so, the GNU Carbon Credit BTX Snowboard is the shred stick for you.
K2 WWW 2016
Built up from a versatile, twin rocker Freestyle Baseline™, the K2 WWW is your best tool for jibbing the streets, parks, and features found 'round the resort. The most playful board in our men's collection, the WWW has a unique JibTip™ shape that provides more edge contact and lower swing weight. When paired with the smooth predictability of Tweekend™ rocker tips, this deck will follow you and your wily freestylin' into any terrain.