Posted on
By Kendra Horvath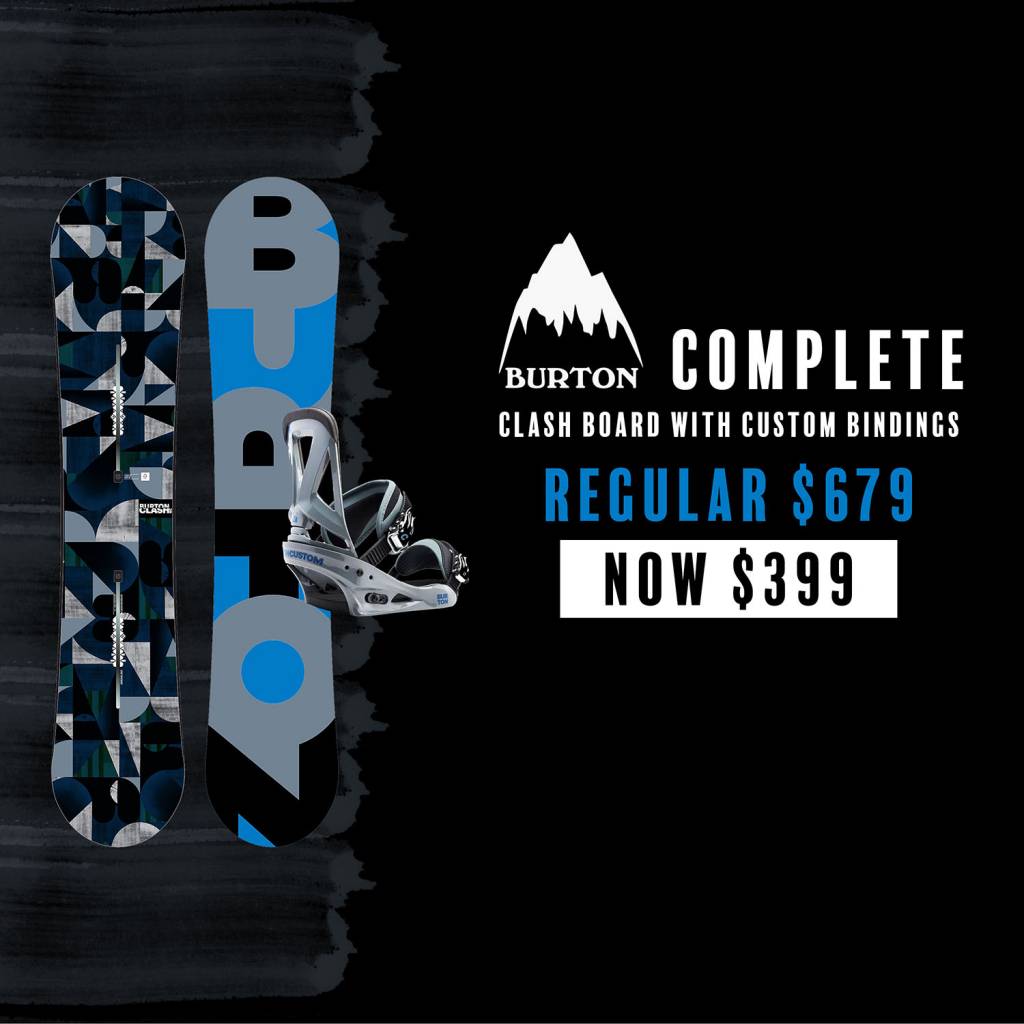 Best sale of the year on a burton complete!
WE HAVE THE CLASH AND THE BURTON CUSTOM BINDINGS SET UP TO BE A SICK COMPLETE!

THE BOARD

While your buddy Winston's idea of an "epic Saturday" might involve playing on his phone all day, yours is a little more adventurous and involves getting out and exploring the mountain. Strap into the Burton Clash Snowboard and empower yourself to venture where cold weather and precipitation collide to create a winter wonderland. Designed for beginner to intermediate riders, the Clash Snowboard has a soft and playful flex that makes for easy turning and a forgiving edge hold.
Rocker Type
Flat Top™ – A flat profile overall with subtle rocker rise provides an extra stable platform underfoot with a catch-free feel at the tip and tail.

Flex
Soft & Playful – At cruising speed, this snowboard is forgiving, playful, and great for progressing. Riders of all ability levels will appreciate the many easy-riding characteristics of a soft snowboard.
Twin Flex – Having a twin flex indicates that your board is perfectly symmetrical in flexibility from tip to tail so you gain a more balanced and predictable ride.
Shape
Directional – Directional is the original snowboard shape. It is designed with a slightly longer nose, to concentrate the pop in the tail. This board will give you plenty of floatation, fluidity, and control to rip.
3 - 6 mm Taper – A tapered shape means the nose is wider than the tail, promoting smooth turn entry and exit, stability at speed, and enhanced deep snow flotation.
Core
FSC™ Certified Super Fly® 800G Core – Lightened up and loaded with pop, Burton's dual-species wood core utilizes dual-density vertical laminations of alternating softwood/hardwood to reduce overall weight with no sacrifice in strength or performance.
Dualzone™ EGD™ – The wood grain is positioned perpendicularly along the toe and heel edges. Engineered Grain Direction provides you with consistent edge-hold and added strength.
Squeezebox Low – Burton's Squeezebox improves your boards performance by balancing thicker more powerful core sections in with thinner more flexible sections. Meaning you get enhanced board connectivity, response and predictability.
Laminates
Biax™ Fiberglass – Gives the board a jib and park friendly feel by softening the torsional flex.
Base
Extruded Base – An extruded base is full of speed, strength and amazing pop. These bases require little maintenance.
Die-Cut Base – Base color displayed may not be available. Base colors may vary.
Edges
Cruise Control Edge Tune – Boosts confidence with the catch-free combo of a softer flex and mellower edge tune. On tapered boards like the Clash™ and Feather™ the nose is fully convex for all-terrain stability.
Graphics
Artist – Tyler Keeton Robbins
Binding Compatibility
The Channel™ – Stronger, faster, easier, and more adjustable - The Channel™ gives you ultimate control of your stance and your board in a design compatible with all major binding companies (not just Burton's).