LW - 02 / Nov / 2021
SMITH OPTICS - MIP Tech
MIPS® Tech Breakdown: The how and why behind the new Tech from Smith Optics<br />

MIPS® technology
MULTI-DIRECTIONAL IMPACT PROTECTION SYSTEM
In a helmet with MIPS® Brain Protection System (BPS) the shell and the liner are separated by a Low Friction Layer. When a helmet with MIPS® Brain Protection System is subjected to an angled impact, the low friction layer allows the helmet to slide relative to the head. The MIPS® BPS is designed to add protection in helmets against the rotational motion. The  rotational motion is a combination of rotational energy (angular velocity) and rotational forces (from angular acceleration) that both affects the brain and increases the risk for minor and severe brain injuries. MIPS® BPS has been scientifically proven to reduce rotational motion when implemented in a helmet by absorbing and redirecting rotational energies and forces transferred to the brain.
THE GREAT MISCONCEPTION
Accident statistics show that many injuries occur due to angled impact to the head. However, in standard helmet tests the helmet is dropped vertically onto a !lat surface. The results are helpful for measuring precise vertical impacts, but inferior for measuring the more realistic scenario of an angled impact. MIPS® has been developed for reality and increases protection against angled impacts.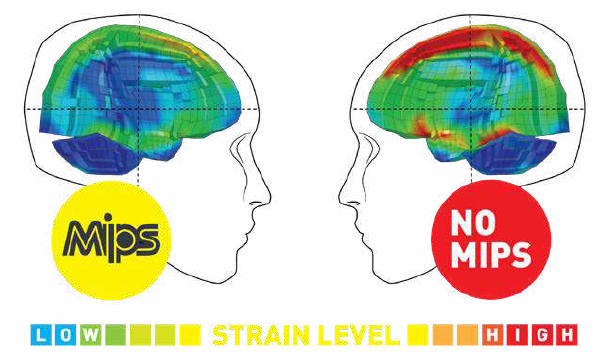 MIPS® IN ACTION
When you fall to the ground at an angle rotational forces are generated. A helmet integrating MIPS®
technology creates a sliding layer between the outer shell and the head. This allows the helmet's outer shell to slide relative to the head when hitting the ground, so the rotational force is decreased, reducing the potential to damage your brain.