Free Shipping in Canada on orders over $100
The product was added to the shopping cart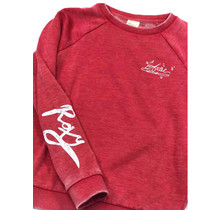 Girl's 7-14 Pompom Fleuri Disney Sweatshirt
49.99
Cart
UW winkelwagen is leeg...
Cheaper somewhere else?
Let us know!
(403) 529-5420
info@boardinghouse.ca
Girl's 7-14 Pompom Fleuri Disney Sweatshirt
Information
Crew neck burnout fleece in cotton polyester, regular fit, with 2x2 tib at cuff, neckline and bottom, graphic hit on chest, sleeve and back. Part of the Disney x Roxy Girl summer collection.
Girl's 7-14 Clothing

| Numeric Size | General Size | Height (inches) | Weight (lbs) | Chest | Waist | Hips |
| --- | --- | --- | --- | --- | --- | --- |
| 7 | S | 50"-52" | 50-60 | 24.5"-26.5" | 22.5" | 28.5" |
| 8 | M | 52"-54" | 60-70 | 26"-28" | 23" | 29" |
| 10 | M | 54"-57" | 70-80 | 27.5"-29.5" | 24" | 30" |
| 12 | L | 57"-59" | 80-90 | 29"-31" | 25" | 31" |
| 14 | L | 59"-61" | 90-100 | 30.5"-32.5" | 26" | 32" |
| 16 | XL | 61"-64" | 100-110 | 32"-34" | 27" | 33" |
Reviews
average of 0 review(s)
No reviews found
Read or write a review
Write a review
Create your own review for Girl's 7-14 Pompom Fleuri Disney Sweatshirt