Free Shipping in Canada on orders over $100
The product was added to the shopping cart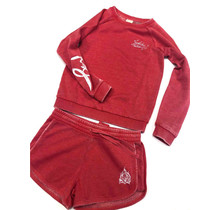 Girl's 7-14 New Adventures Disney Shorts
49.99
Cart
UW winkelwagen is leeg...
Cheaper somewhere else?
Let us know!
(403) 529-5420
info@boardinghouse.ca
Girl's 7-14 New Adventures Disney Shorts
Information
Fleece short in 55% cotton, 45% polyester, basic fit, elasticized waistband with functional knot, cotton tape drawcords, graphic on front hem. Part of the Disney x Roxy Girl summer collection.
Girl's 7-14 Clothing

| Numeric Size | General Size | Height (inches) | Weight (lbs) | Chest | Waist | Hips |
| --- | --- | --- | --- | --- | --- | --- |
| 7 | S | 50"-52" | 50-60 | 24.5"-26.5" | 22.5" | 28.5" |
| 8 | M | 52"-54" | 60-70 | 26"-28" | 23" | 29" |
| 10 | M | 54"-57" | 70-80 | 27.5"-29.5" | 24" | 30" |
| 12 | L | 57"-59" | 80-90 | 29"-31" | 25" | 31" |
| 14 | L | 59"-61" | 90-100 | 30.5"-32.5" | 26" | 32" |
| 16 | XL | 61"-64" | 100-110 | 32"-34" | 27" | 33" |
Reviews
average of 0 review(s)
No reviews found
Read or write a review
Write a review
Create your own review for Girl's 7-14 New Adventures Disney Shorts